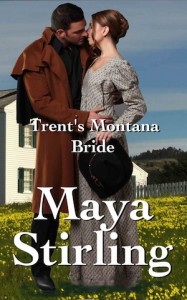 Montana Ranchers and Brides series
Trent's Montana Bride is a sweet, clean Western historical romance with a happy ever after.
Montana 1886
Recently widowed Chloe Wilder has a young baby to care for, nowhere to go, and an uncertain future. The last thing she expects is a marriage proposal from a rancher who she barely knows.
Successful ranch owner Trent McIntyre has just lost his best friend. Trent never thought he'd have to marry, but he made a promise to Lucas Wilder that he'd look after Chloe if she was left a widow.
Trent is a man of his word, even if it means giving up his life as a bachelor with a reputation and settling down with a wife and baby.
Chloe and Trent agree to marry. But it will be strictly a marriage in name only. Can they build a life together in Montana as a family, while resisting the obvious attraction they are both beginning to feel for each other?
The new story in the Montana Ranchers and Brides series is now available.
It's on Amazon
I hope you all like it. Trent and Chloe both had to make great sacrifices to start a new life together on Trent's ranch. I really felt for them as I was writing the story, and I hope you enjoy reading the story as much as I loved writing it.
Let me know what you think of it.
Love
Maya