Book 1 in a brand new trilogy.
The Brothers of Montana series.
Three brothers and their search for love.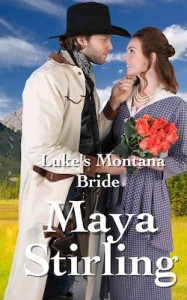 Montana 1887
A friendship that could turn to love
Growing up in the small town of Montana Falls, Amber Scott and Luke Dunbar had always been friends, even if sometimes it had seemed like they were enemies . Then Amber left to become a nurse, and Luke believed he'd lost her forever. Now that she's back in Montana Falls, both Luke and Amber discover they need each other like never before.
Handsome lawman Luke Dunbar knows that reunions don't always go smoothly. Especially if the woman he believes to be his one and only love is determined to resist his every attempt to show her just how much she means to him.
Can Luke seize his second chance at love, and can Amber overcome the barriers to finding a happy ever after with a friend who is now so close to becoming the love of her life?
Each novel in the series is a complete standalone story with a happy ending and no cliffhangers.
I really hope you like this new series. I am really excited to write the stories of these three wonderful men and their equally wonderful loves.
Let me know if you like them by leaving a comment or a review.