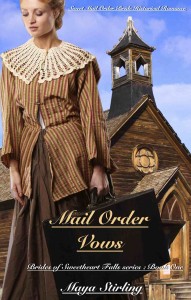 Just published a new historical romance novel, Mail Order Vows.
Brides of Sweetheart Falls series: Book One.  A sweet, full length, mail order bride romance novel with an HEA guaranteed.
Wyoming 1878
On the verge of giving up on a future in the growing Wyoming town of Sweetheart Falls, and heading back to an uncertain life back East, recently widowed mail order bride Cassie Miller is given a final chance at happiness.
Soon Cassie finds out she has no choice but to marry handsome ex lawman Ethan Macleod. However, can she make a new life while trying to come to terms with the loss of her beloved husband Joshua?
Can she really trust Ethan, the man the entire town agrees would make a perfect husband? How come he already knows so much about Cassie?
And just how far will he go to prove to her that he is worthy of being her new husband?
——————————————————————————————————————
Sweetheart Falls, Wyoming is an imaginary town that I wish had existed in 1878 the year during which the novel is set. Everyone in the town is doing their utmost to build a community. It is a new beginning for so many people who have moved West in search of fresh possibilities. I wanted to capture that sense of determination and strength through the characters in the novel.
At the same time it is a romance novel and I just love reading romance novels of all types. I really wanted to give my characters a happy ever after. (Not before putting them through all kinds of pleasant challenges, though.)
I hope you like it if you read it. If you have read it please let me know what you thought of it. What you liked and even (shock horror!) didn't like. I'd love to know what you enjoy in Western romance novels, particularly of the marriage of convenience type. (Those are my favorites)