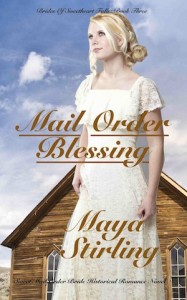 Mail Order Blessing. A sweet, full length, complete mail order bride romance novel with a happy ever after.
Wyoming 1878
Rachel's story.
Sweetheart Falls' town matchmaker Hettie Longfellow has finally found a husband for young, eager to marry, Rachel. Or so Rachel thinks. But there's one obstacle. Aaron Caldigate doesn't want to settle down in town. Then there's the problem of Aaron's past and how it stands in the way of Rachel's chances of married bliss.
Aaron Caldigate is a man who keeps his word. He's returning to Sweetheart Falls because he promised he'd come back after completing his training as a lawyer. But he's not planning on staying, especially since his mother has taken it upon herself to find him a bride!
However he hasn't counted on a very determined and beautiful young bride-to-be who is going to do everything she can to persuade him that Sweetheart Falls is the only place to settle down, and that she is the only woman for him.
I really hope you like the story. Let me know by leaving a review at Amazon. It will help me make the next novels in the series even better.
Thank you all for your wonderful support. I'm so glad you liked the previous novels. They were both bestsellers in Historical Romance for which I am truly grateful.
I have really enjoyed writing the stories of three sisters in the West and their individual struggles to find love and happiness.
Let me know what kinds of stories you'd like to read about brides in Sweetheart Falls.
Many thanks
Maya