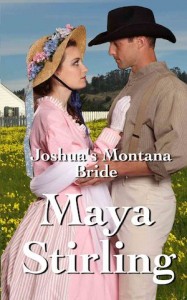 Montana Ranchers and Brides series
Joshua's Montana Bride is a sweet, clean Western historical romance with a happy ever after
Montana 1887
Rancher's daughter Laura Thorne thinks an arranged marriage to a man she barely knows will give her the happiness she's never had growing up on a ranch. But when her husband-to-be rejects the idea of marrying her, Laura is left with nowhere to go and no hope for the future.
In trouble ranch owner Joshua McKenzie has been a friend of Laura's family for years. So when he discovers that she has run away, it's up to him to rescue Laura from her difficulties. Having been sweet on Laura for so long, he's more than happy to save her from a potentially disastrous marriage.
But, neither Laura nor Joshua expect that the only real solution to both their problems is that they agree to a marriage of convenience. Can Laura accept a second chance and the promise of married life on a Montana ranch with Joshua? Can Joshua find a way prove to Laura just how much she means to him? Will they both overcome the barriers to starting a new life together in the wilds of Montana?
This is the fourth in the series of sweet historical romances, Montana Ranchers and Brides.
Montana Ranchers and Brides series
Nathan's Montana Bride (Nathan and Abby)
Devlin's Montana Bride (Devlin and Elise)
Trent's Montana Bride (Trent and Chloe)
Joshua's Montana Bride (Joshua and Laura)